Landscape & Hardscape Services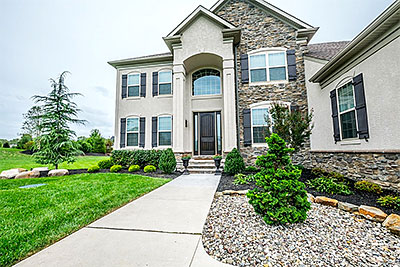 Landscapes are a value-add to your property. The only way you can have appealing and sustainable outdoor spaces is to design and plan them with care. You need to use the right materials and products that will look good and last for a long time to get value for money.

At Chapman Landscaping, our priority is to create the most wonderful experiences for our customers in and around Pitman, NJ. It means we focus on personalization and customization and offer high-grade landscaping services at affordable costs. We tackle projects for commercial and residential clients, ensuring that the features and elements we design and build, lend a cohesive and well-balanced look to your outdoor spaces.


Landscaping
When it comes to landscapes, there is nothing our experts cannot handle. Our company offers comprehensive landscaping solutions. We have the resources, experience, expertise, and skills to manage all projects to industry standards. Our experts are committed to providing clients practical and stunning landscapes, which becomes a good return on investment. They are incredibly innovative and creative in their approach, making sure that all the hardscapes and softscapes installed on your property are tailored to your needs and meet your ideas and style. Every element and feature in your landscaped areas will be built to last, which means you have beautiful yard spaces to relax in and entertain friends. Read More About Landscaping »


Hardscaping
Hardscaping is the foundation of all landscapes. If the outdoor spaces of your residential property have robust hardscapes, the other elements and features will be long-lasting and stable. We offer top-notch hardscaping services. Our team of hardscape designers works closely with you to ensure that all the outdoor structures and installations are as per your needs. We use high-grade materials and products in construction and have experienced and skilled paver installers and other tradespeople on our team. We focus on quality, ensuring that the hardscapes we install last for many years. All the structures will be easy to maintain and practical while being aesthetically appealing, which increases the value of your property. Read More About Hardscaping »


Outdoor Living & Design
In addition to the standard softscaping and hardscaping features, many property owners like to install some outdoor living structures such as outdoor kitchens, decks, patios, pergolas, gazebos, and arbors, etc. These structures enhance the usability of the yard, lend perspective, and balance to it while increasing the value of your property. We provide comprehensive outdoor living services, create superb structures, and install them using the best quality materials. Since every feature and element is designed purposefully and built to last, it increases your property's value and your return on investment. We maintain extremely high quality in all our projects at affordable costs, so the outdoor living features fit your budget. Read More About Outdoor Living & Design »


Lawn Maintenance
Maintaining the turf on your commercial, residential, office, or HOA property requires effort and time. In addition to scheduled mowing, the lawn areas also need to be aerated correctly. They need fertilization and de-weeding, as well as pest control applications. The grass needs regular trimming and pre-emergent and post-emergent weed applications. Different types of grasses need specific kinds of topsoils to grow well and be sustainable. We offer top-notch turf care services to our residential, commercial clients, ensuring their lawns are always in good condition, so they look great and stay healthy. We design customized lawn care plans so that your grass gets the maintenance solutions it needs to thrive. Read More About Lawn Maintenance »


Outdoor Lighting
When you have well-designed outdoor and yard spaces, you would want to use them after dark too. The right kind of outdoor lighting uplifts the appearance of the property and creates a superb impression. We offer the best, customized exterior lighting solutions to residential clients. Our focus is on using outdoor-grade materials in your landscape lighting projects, and as mentioned, we use only the best and proven brands of outdoor lighting fittings and fixtures. Sometimes, landscape lighting installation becomes part of a landscaping project. But if you feel that the spaces of your existing yard have insufficient illumination or they need an uplift, we can install the types of outdoor lighting that you need. Read More About Outdoor Lighting »


Fertilization
You must ensure that you choose good quality products and professional fertilization services when it comes to maintaining the appearance and health of your turf. We are the local experts that offer high-quality organic-based fertilizer solutions. Our team is highly knowledgeable and will assess the soil and grass before providing suitable solutions. We use various fertilizer products in our projects, and our experts ensure that the fertilizers we select are best suited for the types of lawns on your property. We handle soil testing before determining the type and amount of fertilizers needed, ensuring the health and longevity of your turf. Also, we handle core aeration, de-thatching, and lawn renovation projects for our clients. Read More About Fertilization »


Snow Removal
The winters can be incredibly harrowing. It can become challenging to manage snow removal by yourself. In addition to our excellent landscaping solutions, we also offer snow and snow removal through the winter months and cater to residential and commercial clients. We make sure that you get prompt and efficient snow management services. We use the latest tools and equipment, and our technicians are highly experienced. They can handle all types of big and small snow removal jobs efficiently and safely. You can opt for an affordable snow removal contract, and that is an excellent way to ensure that your commercial or residential property is free of snow and ice through the winter months. Read More About Snow Removal »

We offer uncompromising quality and complete all the work to your 100% satisfaction. Our high-quality services help ensure the beauty and longevity of your landscape. The skills, creativity, and expertise that we offer are second to none, and you always get value for money when you hire us.

For more details, please contact Chapman Landscaping at this number - 856-270-2520 or through this Contact Us form. Our experts are here to help with all your landscaping requirements, big or small. They will make sure that every solution we offer is in line with your needs.